Suzanne Smith a Finalist for Library of Virginia Literary Awards
Associate  professor of history Suzanne E. Smith's book, "To Serve the Living: Funeral Directors and the African American Way of Death" is one of three finalists for the nonfiction award in the 2011 Library of Virginia Literary Awards.
The Library of Virginia Literary Awards are given to outstanding Virginia authors in the areas of poetry, fiction, nonfiction (and, in the case of nonfiction, also by any author about a Virginia subject), and literary lifetime achievement. These are juried awards and winners in each category receive a cash prize and an engraved crystal book. Past winners include Barbara Kingsolver, Annette Gordon-Reed, Debra Nystrom, Lisa Spaar, Carrie Brown, Helon Habila, Deborah Eisenberg, Wesley Hogan, Scott Nelson, Melvin Ely, James I. Robertson Jr., Charles Wright, Constance Merritt, and R. T. Smith.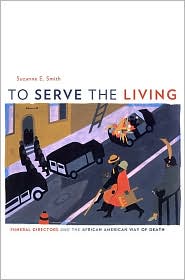 Smith's book explores African American funeral directors' reputations as both community leaders and con artists and how these two images created a tension that worked to create a legendary, sometimes notorious, status for funeral directors in African American culture.
Smith's research interests include the relationship of popular culture, music and art to social protest; the study of film and collective memory; and the history of death in America. Her first book, "Dancing in the Street: Motown and the Cultural Politics of Detroit," examined Motown and its relationship to the black community of Detroit and the civil rights movement.
Smith has also contributed to various public history projects, including the film "Rachel Carson's Silent Spring" for the American Experience series on PBS, and the series, "I'll Make Me A World: African American Arts in the Twentieth Century," from Blackside Productions. She has a PhD in American Studies from Yale University.
The 14th Annual Literary Awards Celebration will be held the evening of Saturday, October 15, 2011. All finalists for the awards series, as well as a complete list of nominees, is available here.